Post by Stroman on Jun 26, 2013 21:13:37 GMT -5
For the third year in a row, members of GPSAT took various routes, on various roads, on various bikes (unfortunately orange was the most prevalent) and consumed various beverages all with a common goal, a favourite location - Elliot Lake. A total of 9 members attended this years rally with a 2 up team yet again although this will be the last year as Skipper gave into his better half's charms and purchased her a bike.
This year, Laurentian Lodge was full (some poor suckers decided to end their lives and get married at the Lodge) therefore plan B was enacted and we ended up at Dunlop Lake Lodge.
Half the group left on Friday to get a head start on the festivities but quickly realized that the entertainment was not arriving until Saturday (hint - a newfie with the handle "Skipper"). We were graced with the presence of Luc (steel a$$) who decided to end his 3 week western Canada bike trip by meeting us there.
The cast of misfits:
GPSAT founder - James (who tore apart a dock, with his bare hands, for firewood)
Norm (I'm going to throw this can at you if you don't go away)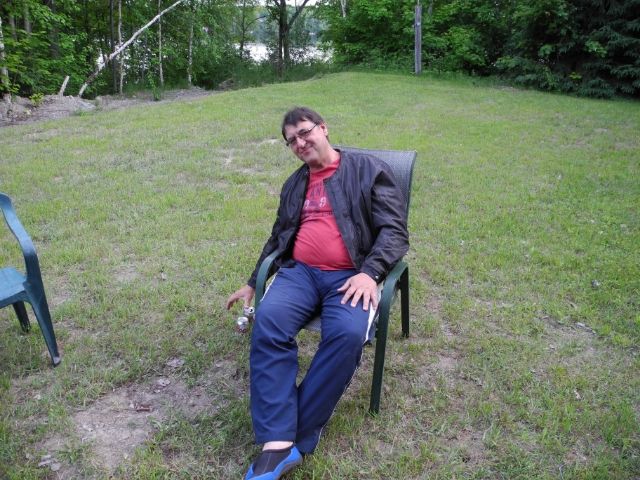 Dale (aka PS-RAGE) - did you just take my picture? I don't like having my picture taken!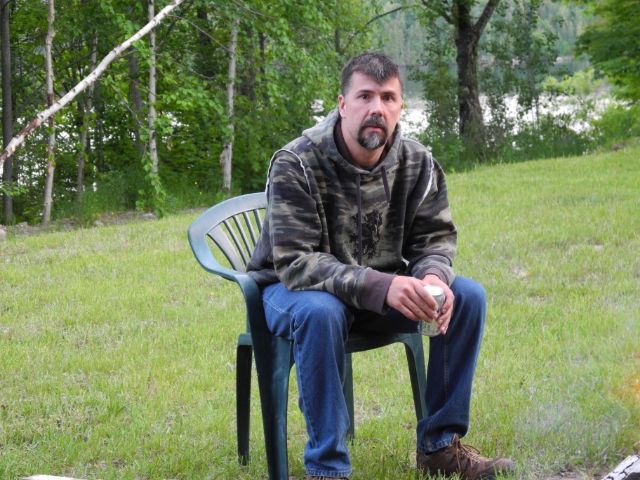 Remi (I made it here in one piece, never went down once, honest!)
Luc (aka whitektm) - I did not steal these shorts from my ex girlfriend
Jason (aka Skipper, aka Newfie) - I don't have to tell you where my other hand is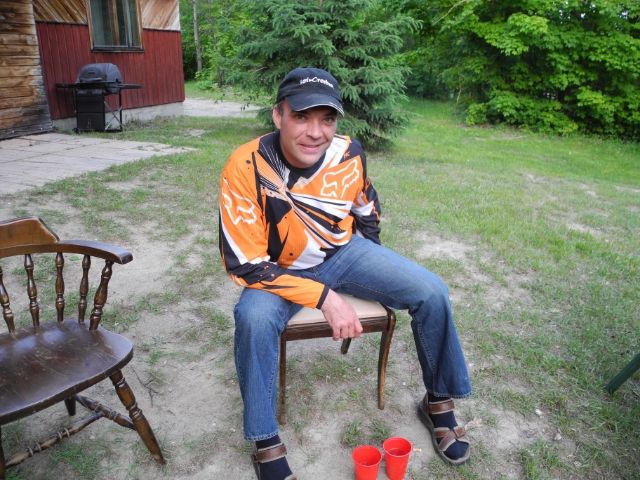 Tammy (you are not at the Optometrist, stop looking at the letters)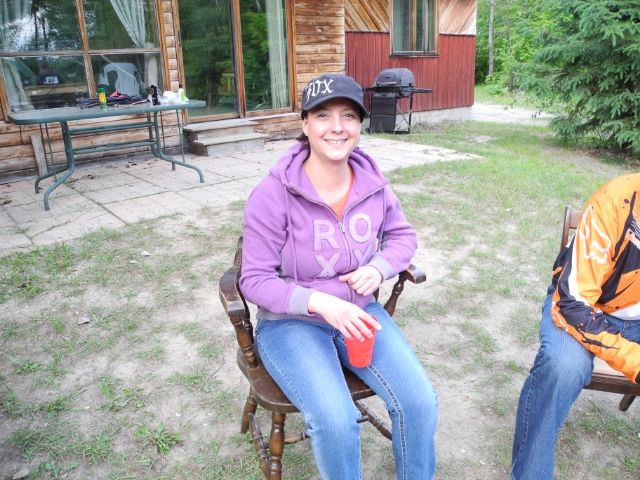 Dave (aka SuperDave) please take my picture while I can still stand and btw, that's twice you have pissed me off!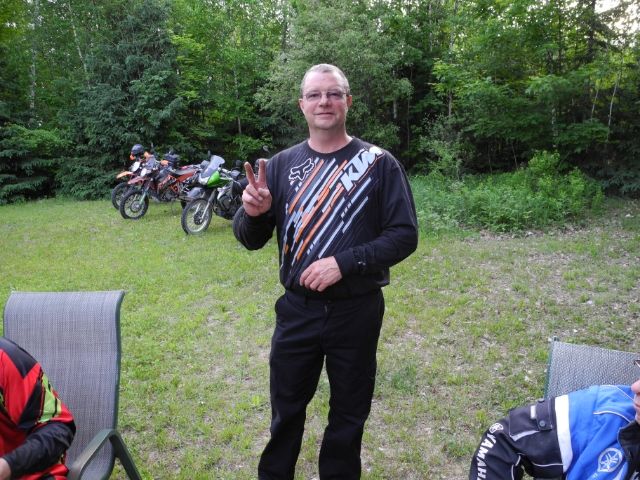 Dan (aka klrman) no one wanted to take my picture, KLR guys are always the outcast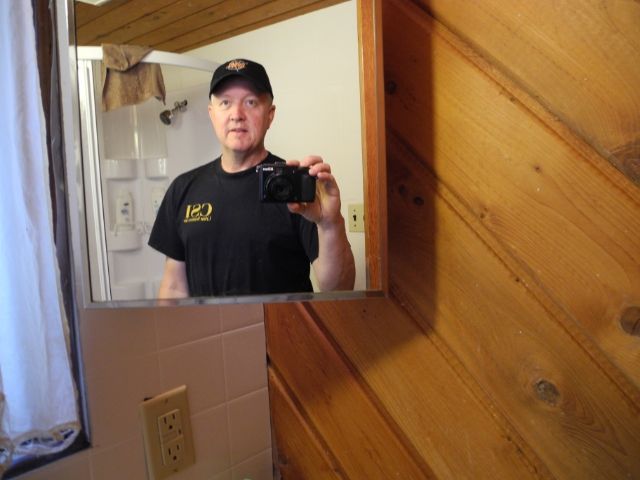 Saturday morning was perfect for riding, SuperDave, klrman and Skipper & Tammy met for the morning coffee then it was off to Pine South/Grassy Road for a perfect gravel run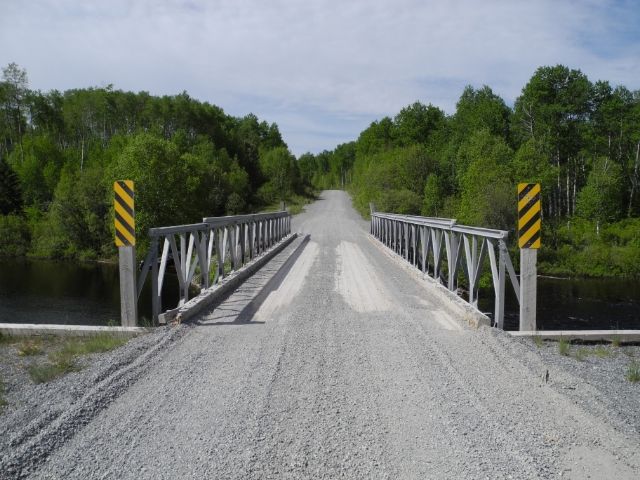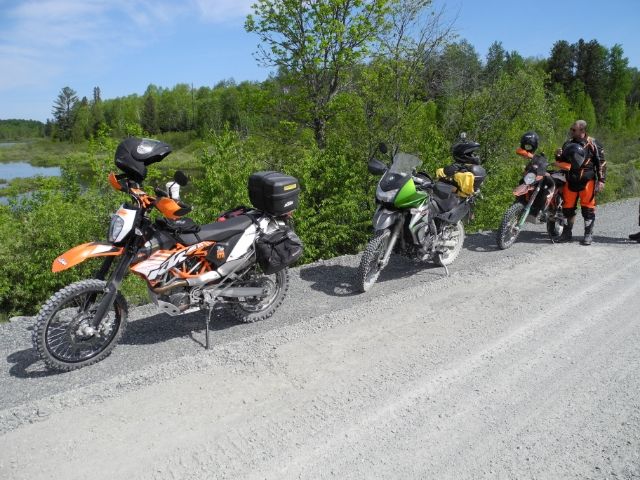 After a quick blast down Hwy 560 to the Watershed for lunch, we took a short ride down Sultan Road and then a left turn a Ramsay Road for a 230 km jaunt to Webbwood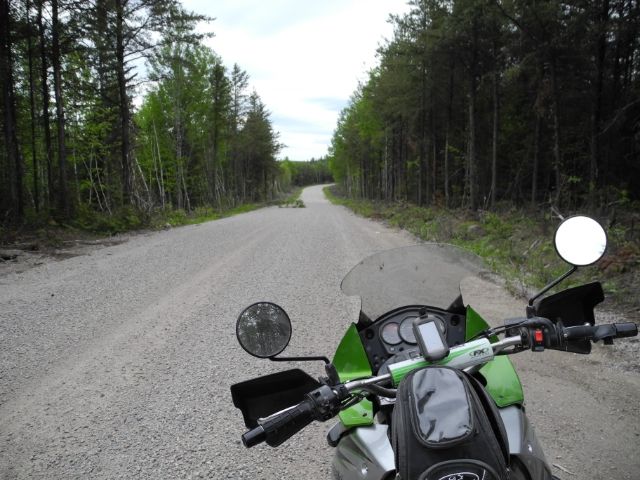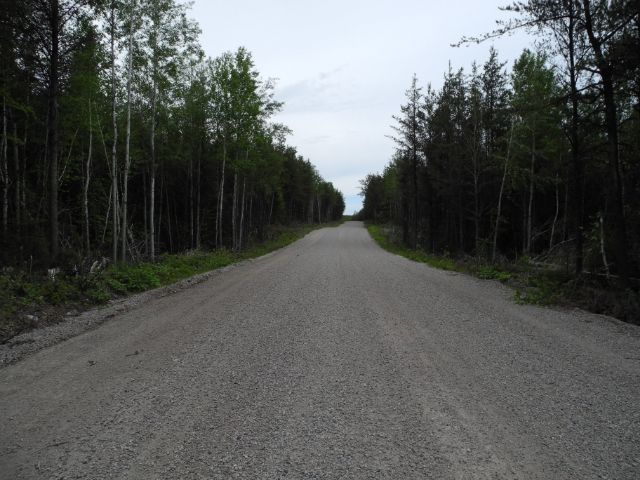 As Skipper and I had bought the same GPS as Dave, our guide was able to teach us the finer points of the Garmin Oregon 450, what a sweet Unit
Now as the 4 of us show up at the Lodge, we can immediately see that the Friday crew has gotten themselves into a wee bit of trouble. Apparently you can only have 2 to a room and the maid found Remi sleeping in a drawer in Jim and Dale's Room.
It was Saturday evening, the whole group was now together and a private cabin was commandeered for the next two nights after some of SuperDave's magical deal making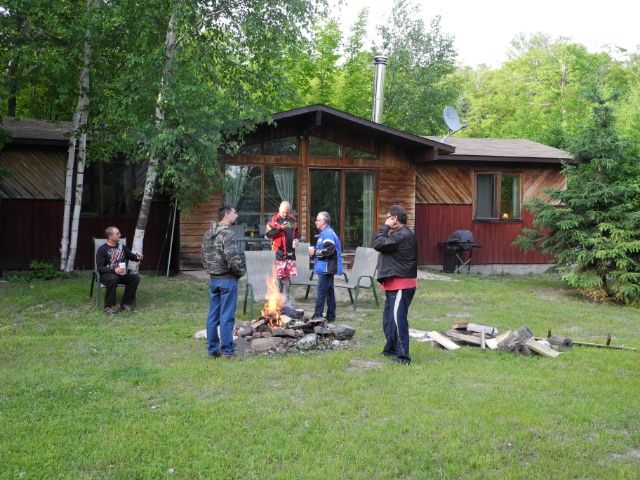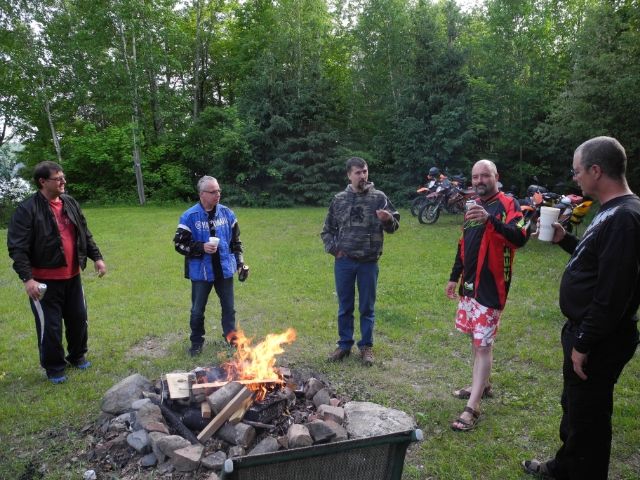 A Rose between 3 Thorns
The party is just getting started folks, more to come...........
Now, I alluded to the fact that we had entertainment and it consisted of storytelling. Originally, Tammy tried her hand at it but was a bit shaky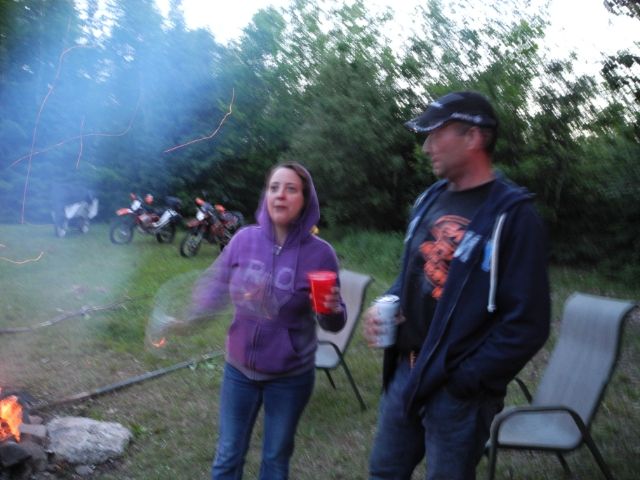 So "the master" took over and here you can see his classic pose as he gets into stories of the "Rock" complete with such songs as "an egg in a bird and a bird in a nest and a nest in a tree and a tree in a hole and a hole in a bog...."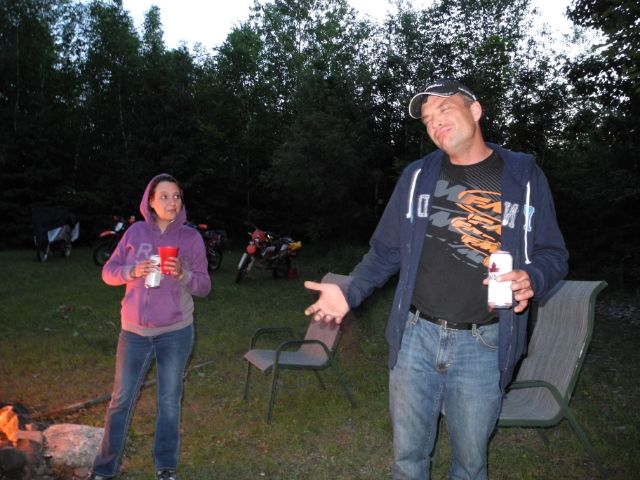 And so she gave up..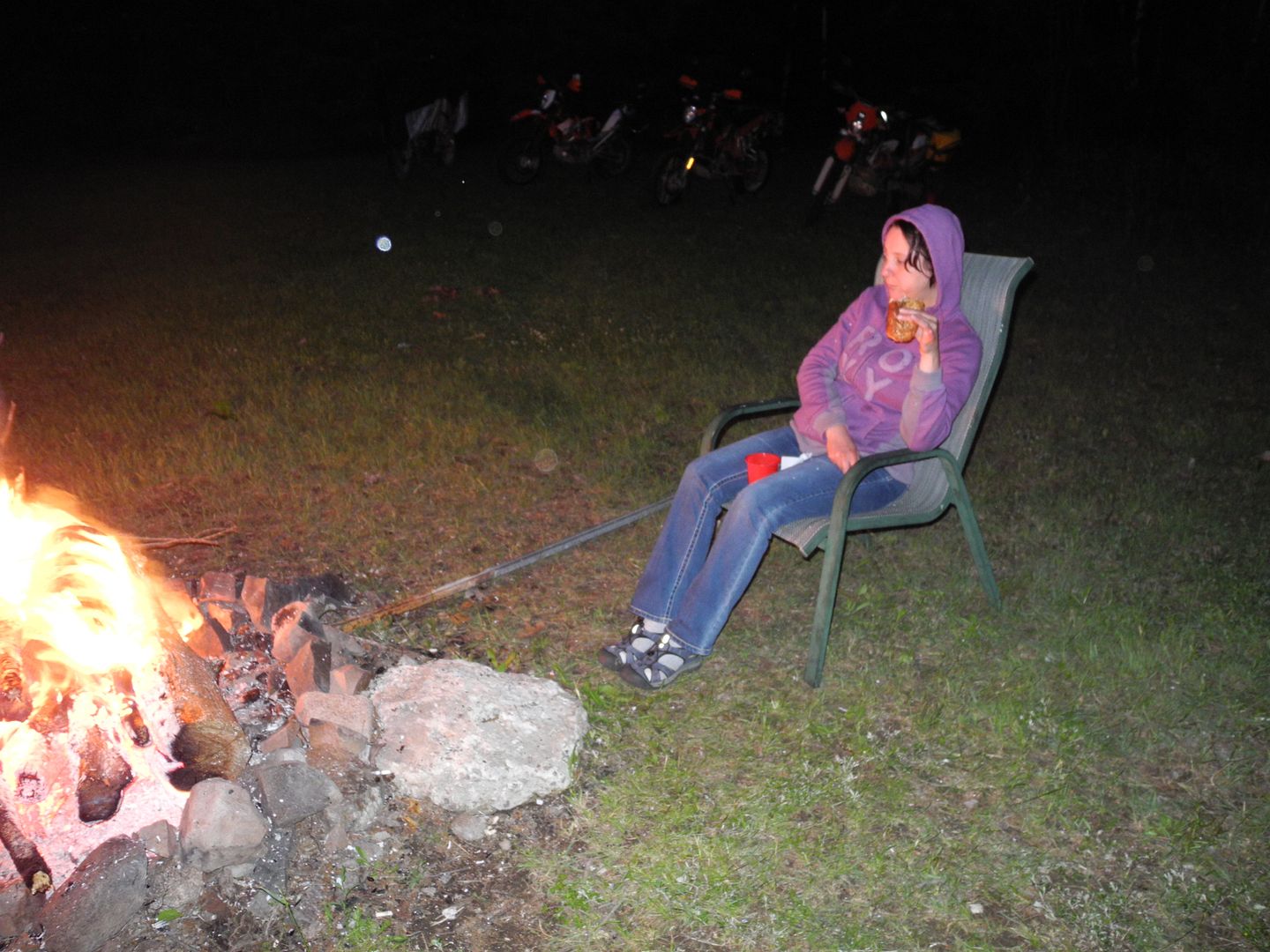 As the night wore on, the stories became so bizzare that Dave made a call to a doctor, a psychiatric doctor!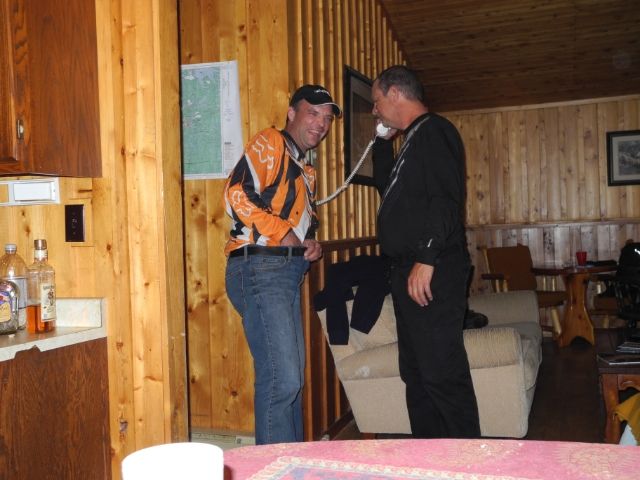 Are you crazy Dave? I don't need no stinkin doctor, I am perfectly normal, let me talk to him!
About this time, Skipper decides to make a fire even though the chimney is plugged. The master of the cabin, Luc, wonders aloud, why is my bed not made. Tammy takes the hint...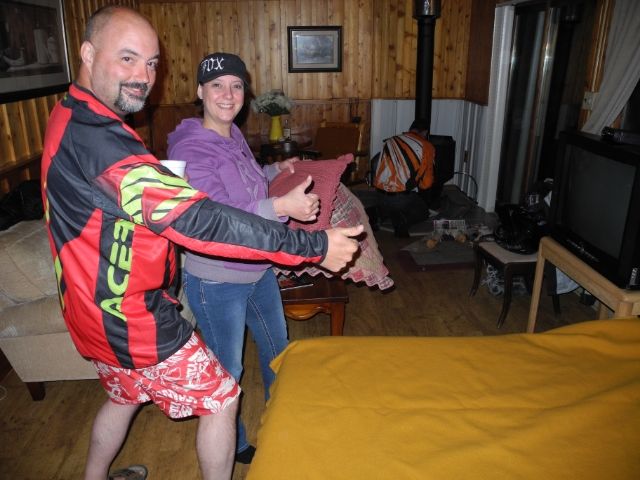 The next day, all is quiet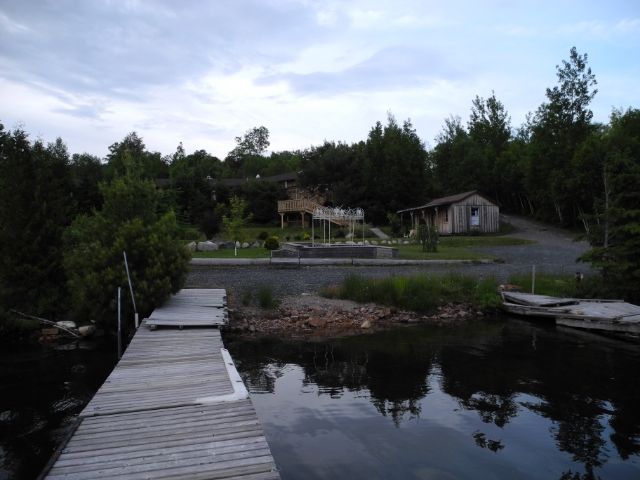 Sunday's ride was a group tour of the Deer Trail whiich included the loop from Elliot Lake to Iron Bridge and then north along the Little White River. Of course, not everyone was able to join in however, we did make sure Skipper was alive in the morning.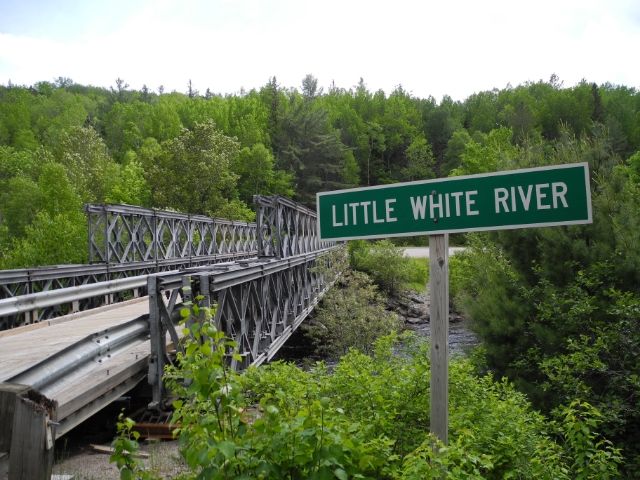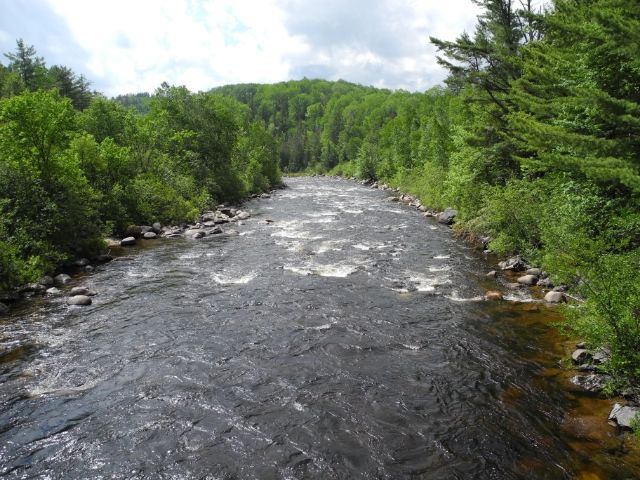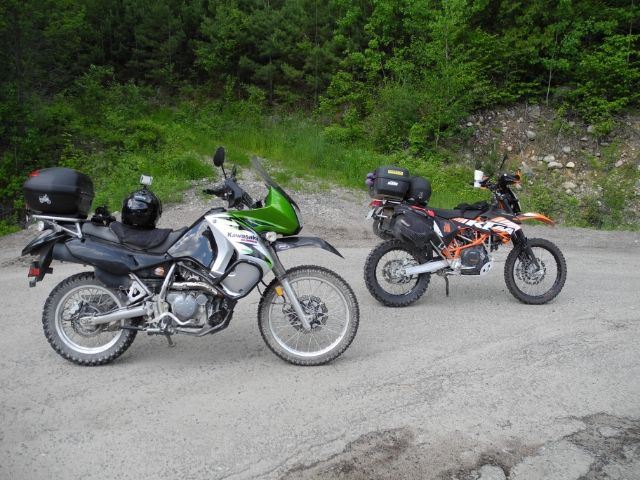 Now strangely enough, the other member who chose to stay behind appeared to have grown into a giant when we returned, don't know what he was drinking?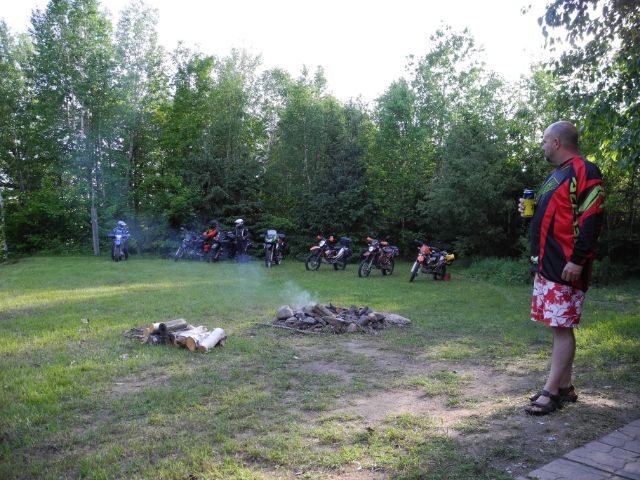 Jim - "I'm not going over there, did you see the size of that guy" Dale - "Well I'm staying on the bike for a quick getaway, he could crush us"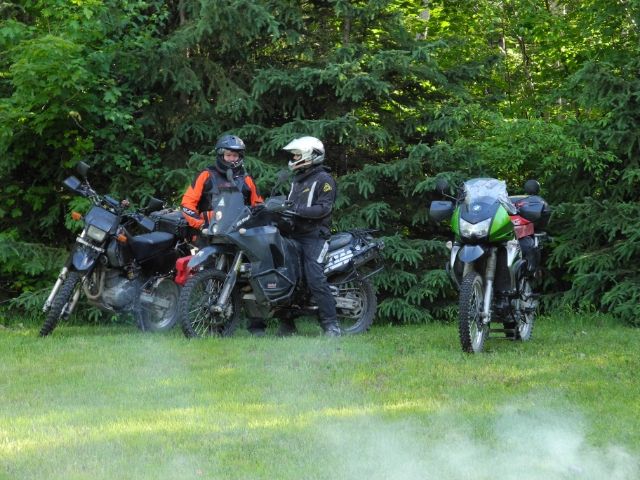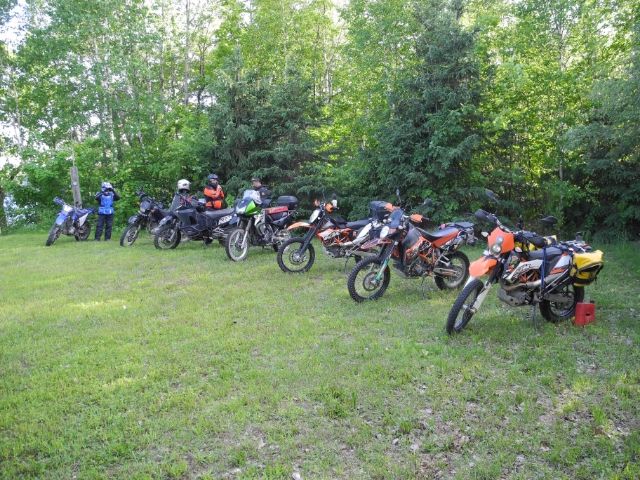 And then, under a full moon, it was time to start all over again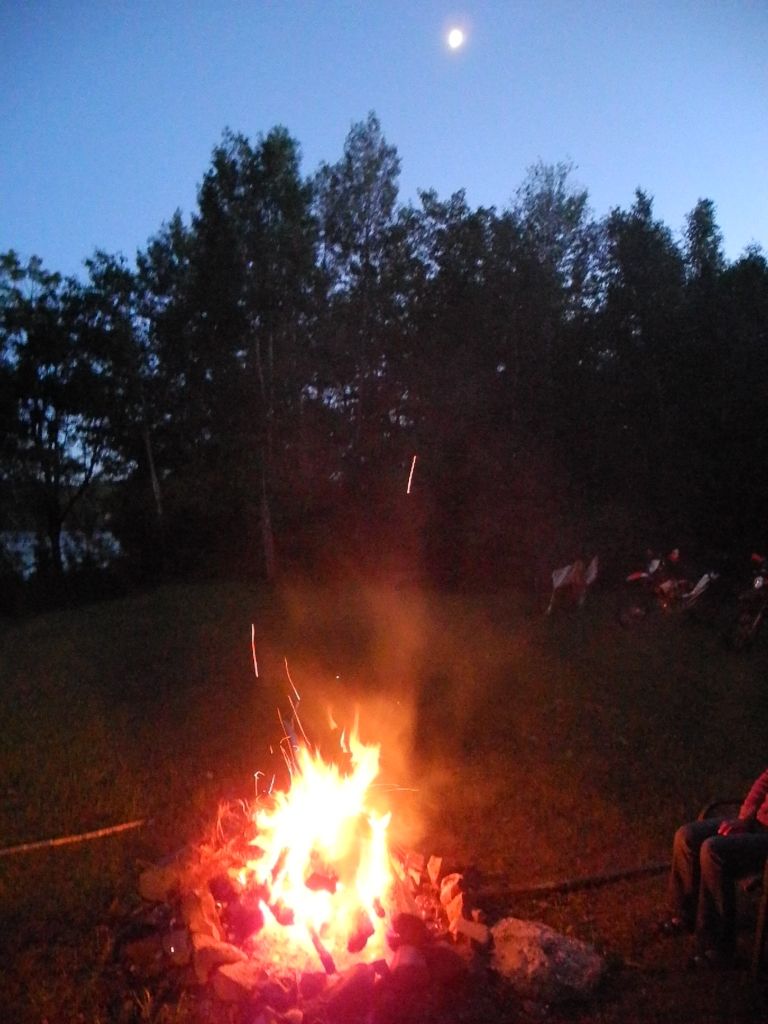 Later that night we found out the secret to Luc's growth, it was the Pistachios!
To end off the rally, fireworks were set off down by the lake. As I was running around lighting them I did not get any pictures however, I know Remi did.
Monday morning, one group took the Black Creek Trail back to Hwy 169 and one group just had to run the Deer Trail again over to 169. There is Go Pro video to add, that will come at a later date.